Mormon Heads of Mission are paid
Mormons discover Facebook and Co.
pte20120706008 Media / communication, culture / lifestyle
New online strategy should lead to more members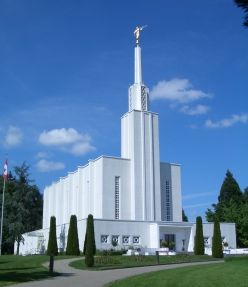 Temple: Mormons also rely on social media (Photo: pixelio.de, tokamuwi)
Salt Lake City / London / Frankfurt am Main (pte008 / 06.07.2012 / 12:25) - The religious community of the Mormons from Utah http://mormon.org are now increasingly relying on social media when recruiting new members. With the help of Facebook and Twitter, they want to revolutionize their missionary strategy and thus carry their religious messages faster and further out into the world. Between the years 2000 and 2010 alone, around 6.1 million people converted to the Mormons in the USA. This is a 45 percent increase. A development that is also reflected in the Internet.
500,000 "Likes"
The church, which has around 14 million believers worldwide, now wants to jump on the social media bandwagon. A post on Facebook could reach 900,000 people in a moment, the Times quoted Erich Kopischke, Mormon chairman of Europe. It will take months, if not years, to knock on nearly as many doors. The official Facebook page now has half a million "likes" and around 13,000 people follow the Mormons on Twitter.
This development can also be seen in German-speaking countries. "In recent years, more and more people have come across our church on the Internet and are looking for contact with us on their own initiative. Young people in particular often use the Internet to find out more, exchange ideas about questions of meaning and thus increasingly cultivate their social contacts this trend is likely to continue, "explains Ralf Grünke, press spokesman for Mormons in Germany http://lds.org, in an interview with pressetext.
Successful campaign on the Internet
In addition, a separate app was launched, which members who happen to be in the vicinity can find and exchange ideas with each other. Recently, an Australian online campaign with the slogan "I'm a Mormon" caused a stir. It was worn by the former rugby player Will Hopoate. "It was amazing. After the campaign, many people came to us without ever being contacted," said Fritjof Langeland, head of mission in Queensland, Australia.
People between the ages of 18 and 45 in particular prefer first contact via social media instead of being approached at the front door. "Our success rate with home visits is around 0.5 percent. If there is a referrer, this rate rises to 30 percent. If there is a mission discussion in your own four walls, this number increases to around 60 percent," explains Langeland.
Draft horse Mitt Romney
The current large public presence of the religious community does not come from anywhere. Your most famous representative is trying to get his foot in the door of the Oval Office. Mitt Romney is an avowed Mormon. His open approach to this is currently leading to a surge in popularity for The Church of Jesus Christ of Latter-day Saints, as it is officially called, in the United States. An aspect that is controversially discussed in the US presidential election campaign. According to a recent poll by the Gallup Institute http://gallup.com, 18 percent of Americans say they do not want to vote for a Mormon.
According to internal interpretations, Mormons are prohibited from using their religion and church resources for political purposes and campaigning. But in view of this hitherto unique political opportunity, this ban could very well overturn. The church could justify itself by saying that this is simply the support of one of its members.
(End)