All countries have strange last names
10 popular German drinks with strange names
"What the hell is apple spritzer? That's how you prepare it," wrote a US blogger about his article in which he revealed the secret of this drink, which is so popular with Germans. Admittedly, lifestyle bloggers can easily turn such supposedly banal topics into a big story. Because of course there is not really a secret behind the mixture, which simply consists of apple juice and mineral water.
With the apple variety, which is still the most popular, the triumphant advance of the spritzer began, which can be made with any juice by adding mineral water.
Of course, everyone is free to mix their own drinks as they wish. For industrially prefabricated products, however, special regulations apply to the labeling of fruit and soft drinks in Germany: the "Fruit Juice and Soft Drinks Ordinance", officially abbreviated as "FrSaftErfrischGetrV".
Classic, medium or still
Whether mixed with juice or pure: Mineral water is extremely popular in Germany. Although the tap water here is one of the best quality and tastiest in Europe, many Germans prefer the bottled version in the supermarket.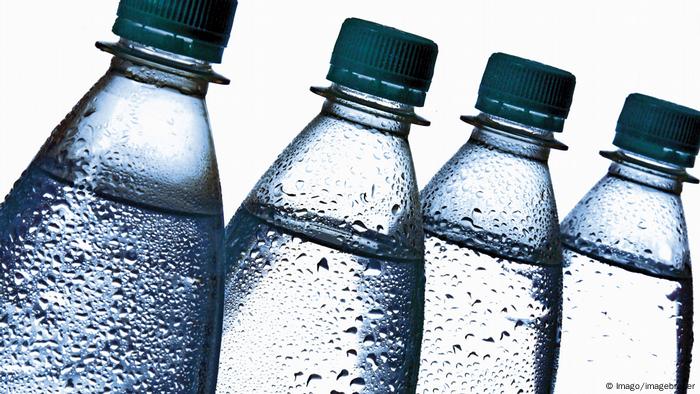 Many people prefer to trust the water from the bottle
While some people believe in the health benefits of its minerals, others simply enjoy the taste of mineral water - which comes of two different types: highly carbonated - called classic - or low-carbonated water, also known as medium. Water without sparkling water is characterized by its unique name: Still water.
According to a report by the Verein Deutscher Mineralbrunnen e.V. from 2018, every German drinks an average of 150.5 liters of mineral water per year. By the way, this habit is still a relatively new phenomenon, in 1970 it was only 12.5 liters per person.
Bottle deposit more expensive than the content
Since 1980 there has been a law to set mineral water standards across Europe. They weren't as strict as the regulations that were already in force in Germany at that time, which is why new providers came onto the German market. Since then, mineral water has ceased to be a luxury product.
In the early 2000s, mineral water experienced another boom with the introduction of lightweight plastic bottles. Since then, the discount chains have been selling the bottled water for a few cents per liter. There the bottle deposit is more expensive than the water itself, which is why the queues in front of the deposit machines became longer and longer.
You can find even more content about Germans and their traditions, their everyday culture and language on YouTube and our website www.dw.com/MeettheGermans_de.