Why did Motorhead have to end
Lemmy & Motörhead: The History of His Band
by Matthias Mineur,
Lemmy Kilmister was not only the bassist & singer of the British rock group Motörhead for over a quarter of a century, but also one of the most colorful figures on the musical circus. Together with him we review the important stages in the history of his band.
"I grew up with the Beatles, with the Ronettes and all these bands in the sixties. I have a bigger past than just there-there-there-boom-hiss, "claims Lemmy Kilmister, adding. "I'm sorry, I never did what was expected of me - and we will never only play what is expected of Motörhead. I always do exactly what I feel like doing. "
You can believe him indiscriminately, the British rock Methuselah. Meetings with Lemmy were always natural spectacles of the extravagant kind. Sir Kilmister was one of the most authentic musical dinosaurs of our time.
If there is anyone who has saved the zeitgeist from the founding days of rock 'n' roll into the new millennium, then it is the Motörhead boss. With all consistency he displayed his philosophy of life as unmistakably as his two oversized warts on his face. The gruff brick lived his dream of freedom and adventure.
On his leather skin was that unmistakable tattoo: "Born To Loose - Live To Win". Can you put Lemmy's life in a more fitting abbreviation? "Some people tell me, Hey Lemmy, you are God. But I say: That can't be. God was tall and slim, "is one of his favorite jokes, which he always tells amid roaring laughter.
Ian Fraser (his original name) was born on December 24, 1945 in Stoke On Trent, England. After a rather inconspicuous childhood, he first became a roadie and then bassist for British space rockers Hawkwind (biggest hit: 'Silver Machine') in the late sixties, but had to quit the service there due to a prison sentence that he was given for drug possession. In 1975 he formed with the band Bastards the forerunner of a group that was converted into Motörhead a little later.
The name "Motörhead" comes from a slang term for speed addicts, the so-called motor heads - "Motorhead" was supposedly also the name of the last song Lemmy wrote for Hawkwind. The band's first official album, Motörhead ', was released in 1977, recorded with Pink Fairies guitarist Larry Wallis and drummer Lucas Fox. The first Motörhead line-up that really mattered consisted of Lemmy (bass & vocals), "Fast" Eddie Clarke (guitar) and Phil Taylor (drums), and after their debut 'Over Kill' in the late seventies was released, happy about the flattering award as "worst band in the world". Lemmy can only confirm this.
"Technically, the first Motörhead line-up was really terrible," he admits frankly. "We could never have played the songs that we loosely shake up our sleeves these days with Phil Taylor and Fast Eddie Clarke." The current drummer of the band, ex-King-Diamond and Dokken drummer Mikkey Dee, doesn't see that very differently either . "I saw Motörhead at the Hammersmith Odeon in the early eighties," he says. "Taylor, who could hardly play in the end, tried three times to start the double bass rhythm with Overkill'. This failed him three times. Lemmy went to the microphone and snapped: Fuck it, just forget the damn number! We're playing a different song now. "
This little anecdote makes two things clear: Motörhead had to endure tough years musically and commercially, and probably only survived because boss Kilmister let neither his visions nor his role as the undisputed head of Motörhead be taken out of his hands. "I'm the little dictator, but it has to be like that. Because I'm responsible for everything in this band, "he explains. "Motörhead is my life and will be my death at some point." Despite the initially rather modest performances, the media always followed the band's fate with particular interest.
As the magazine "Stereo Review" wrote in 1977, half fascinated, half disgusted: "They know they are like animals and they don't want to appear as anything else. Where there are so many ugly frogs jumping around in heavy metal who think they are God's gift to women, these quasimodos even seem somehow charming. "However, from the beginning of the eighties the musicians and their albums got better and better. In 1980 they landed a first classic with the album's title track, Ace Of Spades '. Immediately after, Ace Of Spades ', the second hit that went down in rock history immediately followed:" No Sleep Till Hammersmith ", with live recordings from the legendary London club Hammersmith Odeon.
In the fall of 1982 guitarist Eddie Clarke left the band due to continued dissatisfaction with Motorhead's commercial development. For him, guitarist Brian Robertson, who had previously played with Thin Lizzy, joined Lemmy & Co., and ensured a gradual change in the musical directives. Spex journalist Diedrich Diedrichsen formulated in his very own, verbose manner the fact that "from the simplistic, radical, death-defying, loud idiot rock band with grunting-hymnically good songs, which speed freaks enjoy the emaciated and intellectuals who enjoy being smug had their roaring idiotic joy when they became a normal heavy metal band.
But after a short time there was tension within the group. Robertson, spoiled by the Thin Lizzy successes, wanted special treatment, felt himself to be the star of Motörhead, and with this attitude almost inevitably clashed with Böss Lemmy. "We had a lot of trouble with Robertson," Kilmister complains to this day. "He never wanted to subordinate himself to Motörhead, he always wanted to be Brian Robertson featuring Motörhead Artists'. Or, Motörhead featuring Brian Robertson '. I don't have time for something like that, I want a functioning band. "
After the release of Another Perfect Day, Robertson left the band again in 1983, with Phil Campbell and Michael Burston alias Würzel coming in for him. At the beginning of the nineties, the flagship Motörhead went into a tailspin again. The band signed their first major deal and, at the insistence of their record company, tried to sand the previously unbridled power rock more towards radio use. The '91 album, 1916' still managed to satisfy the fans, but the successor, March Ör Die '(feat. Slash and Ozzy Osbourne) failed completely. Shortly before the recordings for, 1916 ', drummer Mikkey Dee came to the band, but after the completion of" March Ör Die 'the lucrative major deal slipped out of his hands again, Lemmy had also emigrated to his British homeland in America in anger. He emigrated to Los Angeles and had to put up with scorn and ridicule from his compatriots as a result.
"Lemmy goes to Hollywood" proclaimed the British press, mockingly referring to the English pop project "Frankie Goes To Hollywood", and poured out a whole bucket of hateful tirades about the supposed Judas of the domestic music scene. But Kilmister didn't care. "I don't care what people say," he growled, and still today asks himself provocatively: "What else should I do in England? I lived there for almost 44 years and what was the result? As a musician I almost starved to death. I hadn't even been to America for two years before we were nominated for a Grammy. Do you understand what I mean?
Why do people in England scold? You kind of pissed me off. I should have stopped Motörhead if I had stayed in England. Also, I'm still pissed off that they wanted so much money for the UK tour in 1993. You know, you can tour anywhere in the world and it ends up being billed. Only in England did they want a £ 100,000 guarantee. Before the tour! 100,000 pounds !! Where should we get it from? And even if we had the money, I'd rather cut my throat than give it to those ass violins. Do you understand? That's how it is in this great England! "
But even within his band, his move to L.A. did not meet with unanimous approval. Würzel, for example, stayed in Great Britain and wept publicly in the local press that Lemmy had simply turned his back on his loyal fans. In addition, the attempt to gain a foothold in the commercial camp with the ballad Ain't No Mr. Nice Guy (with Ozzy Osbourne and Slash among others) was not at all to Würzel's taste. "Motörhead is a rock 'n' roll band, the fans don't want to hear this silly Geseire. Not even if your deity means that, "he poisoned.
And he was immediately shown the yellow card by his supervisor. Lemmy strongly disapproved of the expression "Your Godhead" and publicly distributed reprimands for his subjects. "What's wrong with ballads?" He asked. "Phil liked her, Mickey liked her, and I liked her. So when it comes to democracy, Würzel was clearly outvoted at the time. For years we tried to give people what we thought they wanted. But nobody bought it. "
Lemmy hardly ever made it easy for those around him, but mainly because he is now picky about ensuring that the band's hard-to-reach level is not carelessly fallen below. In the mid-90s, guitarist Würzel left Motörhead after having been with Motörhead for over a decade. "I was planning on getting out for a long time, but I wanted to wait for the right moment and the right album," he said. 'Sacrifice '(1995) seemed like the right record for him to quit. "I was in the band for eleven years, but I have no regrets about breaking up. I feel a little sorry for the fans because they are always a little disappointed when someone leaves a band. And Lemmy will surely say at some point that I will regret having left Motörhead again. But as long as I don't have to read negative comments about me in the press from him, I only have good feelings about Motörhead. "
The retarded Lemmy, drummer Mikkey Dee and guitarist Phil Campbell did not do him this favor, but publicly complained about Würzel's alcohol addiction. "Würzel was a great help to Motörhead in his good years," explains Lemmy. "He was a driving force in songwriting, and on stage you always had to catch him with a lasso. But in the end it was just difficult with him. He was always drunk. You could already see him stumbling through the hotel lounge at nine in the morning. "
And Mickey Dee doesn't necessarily consider the guitarist's exit as a worst-case scenario. "You just couldn't get along with him anymore, not even musically. When he played the first riffs of "I'm So Bad Baby I Don't Care" on stage, the monitor boxes only gave an indefinable crack. Noises to which one could at best play without direct orientation. "
To the delight of the fans, Motörhead quickly went back to day-to-day business and decided to continue with the three of them. Lemmy: "Phil wanted to take this chance and play everything by himself. Mickey and I talked about it and said, okay, we'll give him this chance on the tour. We explained to him that he would get the chance for the upcoming shows and if at the end of the tour we felt that we needed a second guitarist, we would bring someone in. But it was great, it worked brilliantly. "Incidentally, this was also the opinion of the press and attested that the trio was revitalizing the classic three-man tradition.
Especially the Scandinavian drummer Dee, with flowing mane and smart facial features, the pure opposite of his master and master, clearly feels at home in this constellation. When he joined the band in 1992 and recorded March Ör Die 'just a few weeks later, many thought that the percussive beau would only use the band as a stopover and would run away again after the next album at the latest. Mr. Dee has now been with Motörhead for over eight years and is turning out to be the second boss next to Lemmy.
"I think Lemmy has respect for my willpower, and sometimes sticks back," reveals Dee Interna. "But he also knows that I always give him good advice. A lot of important things come together for me, I often mediate between organizational issues and what the band wants. It's me who goes to Lem and says: 'Listen, I know you don't feel like it. But if we do that now, it will have this and the advantage. That might give us the chance or the chance. Let's do it, clench your teeth, trust me! I know it's good for us! 'In this way I have brought Motörhead a lot further forward in the past few years."
Indeed, Lemmy knows this all too well and has appointed Mikkey Dee his vice-chancellor because of it. "Mickey belongs to Motörhead just like I belong to it," he confirms. "He loves to play with me. The problem in the past has always been that I don't play my instrument in the traditional sense, but rather hit the bass like a rhythm guitar. It's like Mitch Mitchell in the Jimi Hendrix Band - you shouldn't worry about why something works, because if you try to analyze it, it'll only get worse. "
The three of them also work in the year 2000, seem to be more dynamic than ever, and praise the philosophy of hard work with their current album, We Are Motörhead '. Because hardly anything has been given to Mr. Kilmister in his life. And the band's unique career doesn't really have much to do with coincidence or luck. "Luck is for assholes," trumpets Lemmy. "Luck is only ever needed by those who have nothing on their minds. I've never been lucky in life, I always had to work hard for everything. Or what do you think people respect me for? Because i'm so beautiful
You can find playalongs and karaoke versions of Motörhead pieces in our playalong shop!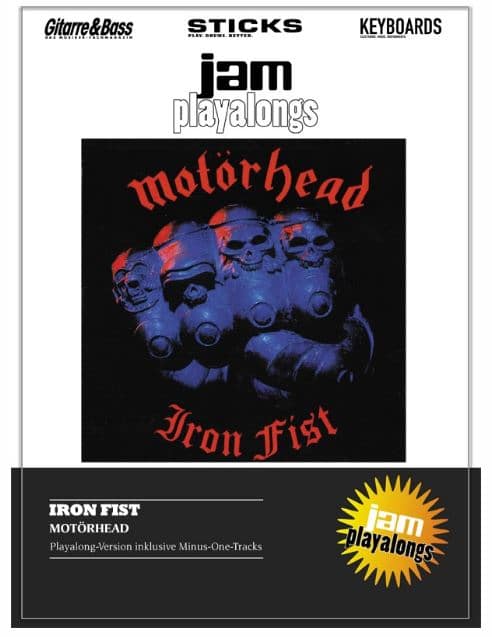 You might be interested in that too