Boycotts Israel in an inherently anti-Semitic manner
Bundestag condemns boycott campaign against Israel
The calls of the BDS movement to boycott Israeli artists as well as stickers on Israeli trade goods, which were intended to discourage purchase, were reminiscent of "the most terrible phase in German history," says the cross-factional motion by the Union, SPD, FDP and the Greens, which with was adopted by a large majority. Speakers from these parties had warned that the campaign called into question Israel's right to exist.
"The argumentation patterns and methods of the BDS movement are anti-Semitic," it says in their motion. They resulted in the branding of Israeli citizens of the Jewish faith as a whole. "This is unacceptable and must be sharply condemned." The MPs called on the federal government not to support any events by BDS supporters.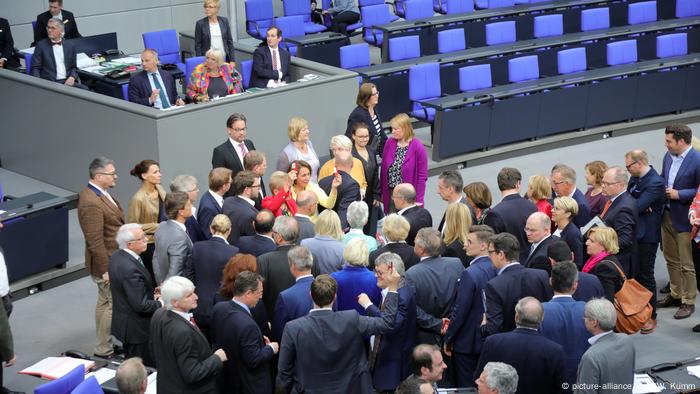 Roll-call vote after the debate in the Bundestag in Berlin
BDS stands for "Boycott, Divestment and Sanctions", in German: "Boycott, Disinvestments and Sanctions". The initiative was started in 2005 by more than 170 Palestinian organizations. It is now supported by numerous organizations and individuals around the world.
It calls for goods and services to be boycotted from Israel and investments withdrawn from there until the state fulfills three central demands: an end to the occupation of the West Bank, the Golan Heights and East Jerusalem, and complete equality for Arab-Palestinian citizens of Israel and a right to return to Israel for Palestinian refugees and their descendants.
The adopted proposal was controversial. Sections of the Greens distanced themselves from the text in their own declaration because, in their opinion, it condemned the BDS movement too broadly as anti-Semitic. There were also concerns in the Union, but the MEPs still wanted to agree.
Like the AfD, the Left Party had submitted its own application. Speakers from the left emphasized that their group also rejects the BDS movement. However, they indicated that freedom of the press and freedom of expression could come under pressure from the intergroup motion. The AfD criticized the fact that the other parties' requests did not call for a ban on the BDS movement. She accused them of "pinching" the "crucial question".
The President of the Central Council of Jews in Germany, Josef Schuster, welcomed the "clear, common positioning". "Finally, the anti-Israel boycott movement is clearly being named for what it is at the federal level, namely anti-Semitic," he said. With this important decision, the fight against anti-Semitism and the security of Israel are explicitly affirmed as part of the German raison d'etre.
As expected, the Israeli Foreign Ministry praised the Bundestag for the decision. "The German parliament has recognized the anti-Semitic nature of BDS and its illegal boycott activities," the Foreign Ministry spokesman wrote on Twitter. "This is an important step that other European legislators will hopefully take."
uh / stu (dpa, afp, epd, kna)