What are the alternatives to air conditioners
How to cool down: 6 alternatives to air conditioning
When the mercury threatens to blow up the thermometer, the longing for cooling down, for air conditioning increases. There are, however, good alternatives.
Even if the temperatures rise to over 30 degrees Celsius, you have to eat, drink, sleep, live and work. That can be an ordeal. But there are tricks to cool off and ways to keep your cool head even during the heat wave!

1. Sleep - with wet hair
Let's start with something nice that can quickly become torture due to the heat: sleep. Going to sleep with your hair wet can help. However, if you want to ensure real coolness in bed, simply cover yourself with a damp towel and thus achieve the same effect that God intended for us through sweating: cooling down through wetness. If you prefer to stay with normal bed linen, you should use percale or satin bed linen to increase the coolness factor.
In addition, you can cool the body with a damp washcloth and a few drops of China oil before going to bed and put the nightgown (alternatively the cushion cover) in a plastic bag in the freezer for a while in the evening. Cold showering, on the other hand, gets the circulation going and has the opposite effect. The pores only widen with lukewarm water, which means that the body can give off more heat.

2. Eating - like the southerners!
As far as food and meals are concerned, it is important to orientate yourself towards southern climes. Cold soups and light salads are more digestible compared to meat and are therefore at the top of the list. Our body therefore has to use less energy and thus generates less heat. In addition, the hotplate does not unnecessarily heat the apartment, which is already too hot. In addition to the well-known Spanish gazpacho, tomato soup is also very digestible when chilled.
If soup isn't big enough for you, we recommend couscous and pasta salad. Vegetable snacks, such as tomatoes or cucumbers, are particularly suitable for in between meals due to their high water content. Melons, pineapples, cherries and apples do not ripen in vain in the hottest season. A fruit salad with seasonal fruits as a liquid supplier thus offers an ideal opportunity for refreshment on hot days. From holidays in Spain, Italy and Greece you probably know the habit of southerners to move their main meal to the evening. This is particularly recommended at high temperatures, as it makes our cardiovascular system more difficult to generate energy for digestion.

3. Drink - plenty of it!
When the heat hits the body, hydration is the be-all and end-all. However, this time the refrigerator compartment is not considered a panacea for staying cool. Ice-cold drinks put unnecessary stress on the stomach. Lukewarm water or cooled tea are therefore ideal thirst quenchers. Again we can learn from the habits of the hot countries: Moroccan peppermint tea, with a pinch of nutmeg, cardamom and cinnamon, is a refreshing secret recipe on summer days. It is important to stay away from sweetened lemonades and iced teas. Having a beer after work at sunset with your work colleagues will, however, help you start the next hot day in the office cool. In general, however, to cope with the heat: water in masses, alcohol in moderation!

4. Work - with preparation!

Classic air conditioning systems are real power guzzlers, an environmental disaster, so to speak. You can also keep a cool head in the office in a much more energy-saving way (attention: no guarantee in the event of heated discussions!): It is essential to wear the right clothing. Airy shoes (yes, Birkenstock sandals are also allowed in the office, as long as they stay under the desk) are just as important as breathable clothes made of cotton and linen. For a special freshness effect, you can simply put your insoles in the refrigerator overnight and start the day with fresh feet.

Electrical devices in the office that are not in use should be released from standby mode, as they represent a large source of heat and quickly heat the room by one or two degrees. With essential oils you can score double points in the summer office, in addition to refreshing scents, they also provide cooling. Simply rub the knees, wrists or temples with tea tree or peppermint oil or add a few drops to the hair shampoo to cool the scalp during the day. Of course, everyday office life in summer can also be made more bearable with repurposed hot water bottles (fill with cold water and put in the refrigerator), cool wrist showers, foot baths and cool music.

5. Living - in the dark!

Rule number one to keep the apartment cool: darken the windows. Especially in rooms facing east or south, external blinds provide the best possible sun protection. Indoor blinds that do not have a reflective coating heat the air inside the home. Textiles such as upholstered furniture, curtains and wool blankets store heat. Incidentally, carpets, for example, could be banned during the warmer months of the year. A parquet floor or tiles stay cooler.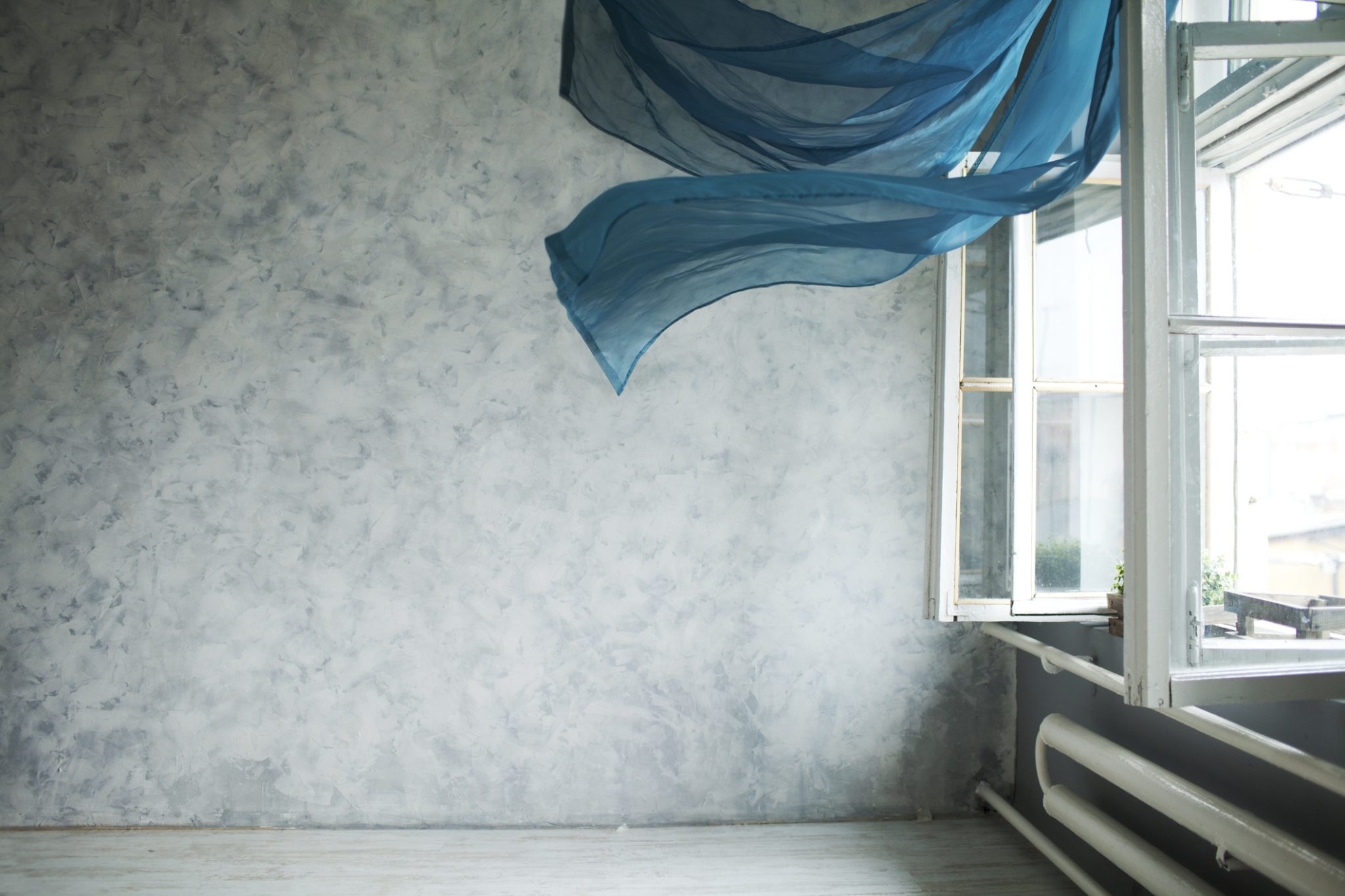 Image: istock / yulkapopkova
6. Ventilate
During summer heat waves and tropical nights, it is only worth ventilating early in the morning (best before sunrise) and late in the evening (well after sunset, second best). That means: You can only cool yourself down from outside to inside in a small window of time. It is best to keep all windows closed between 8 a.m. and 11 p.m. And the ventilation process becomes even more effective by hanging up damp towels or cotton sheets on the balcony or in the room. In combination with fans, you can achieve a similar effect as with air conditioning systems, but significantly more energy-saving.