How does China affect Pakistan
China woos Pakistan
First Beijing courted India - and now its archenemy Pakistan is the target of the Chinese charm offensive. On Tuesday (November 21, 2006), China's President Hu Jintao announced a strategic partnership with India in New Delhi. On Thursday he flew to Islamabad to hold talks with President Pervez Musharraf and other government officials until Sunday.
On Friday, the two states signed a free trade agreement with which they want to triple their bilateral trade. According to the agreement, China and Pakistan are aiming for a trade volume of 15 billion dollars (11.5 billion euros) by 2011. Last year, the trading volume was $ 4.26 billion, which is 39 percent growth compared to 2004. In total, Hu and Musharraf signed 18 agreements on social, economic and defense cooperation.
It is the first visit by a Chinese president to Pakistan in ten years. The two countries traditionally have very good relations, with China and Pakistan signing a friendship treaty as early as 2005, in which they pledged not to enter into any alliances with one another.
Agreement on continuation of nuclear cooperation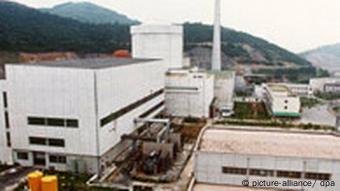 In plants such as the pressurized water reactor in Zhejiang Province, China developed the nuclear technology that it exports today.
Pakistan is of great strategic importance for China, which wants to expand its supremacy over India in Asia. Head of State Hu Jintao is pursuing a dual strategy: He is cooperating with India and at the same time strengthening Pakistan, with which India has fought several wars. "Beijing wants to balance the emerging India with a stronger Pakistan," explains Kay Möller, Asia expert at the Science and Politics Foundation.
At the talks in Islamabad, China and Pakistan also agreed to continue their previous cooperation on the use of nuclear energy. "It's probably about the delivery of new reactors," says Jörg Rudolph, sinologist at the Ludwigshafen University of Applied Sciences. Both states had already agreed to build two nuclear power plants in Pakistan in 1986, one of which has been on the grid for six years. The second is still under construction.
Pakistani atomic bomb developed with Chinese help
China is not only Pakistan's largest arms supplier, explains Jörg Rudolph: "The Pakistani atomic bomb was also largely developed with Chinese help," explains the expert. A nuclear agreement between China and Pakistan is only the logical answer to the agreement on nuclear cooperation that the US and India have already agreed, explains Kay Möller. "China is thus providing the counterpart to the US strategy," said the expert.
Last week the US Senate finally paved the way for US nuclear cooperation with India. The agreement allows cooperation with the nuclear power in the civilian use of nuclear energy, although India, like Pakistan, has not signed the Nuclear Non-Proliferation Treaty. "India is effectively recognized as a nuclear power by US policy," explains Jörg Rudolph.
Pakistan's illegal nuclear supplies to North Korea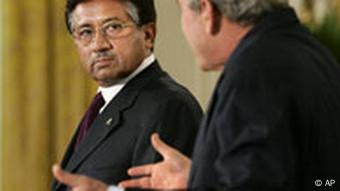 Musharraf on a state visit with US President Bush to the White House in September
Washington has denied Pakistan a civilian nuclear deal. Therefore, Islamabad hopes to be able to expand its nuclear technology with Chinese help. It cannot develop Pakistan further in any other way. Since its nuclear weapons test in 1998, Pakistan has been boycotted around the world in the civilian nuclear sector.
India, too, was initially subject to a boycott, but this is slowly weakening as the USA and France are again willing to cooperate. One reason for this is India's greater credibility: while India is considered a responsible nuclear power, Pakistan has come under fire for illegally delivering nuclear technology to countries like North Korea. For this reason, too, China's apparent strengthening of Pakistan's nuclear industry is risky.
China is pursuing its strategic interests in Pakistan by all means. It is not just nuclear technology that is of interest. Chinese companies are currently building a large deep-water port in the Pakistani coastal city of Gwadar. "The Chinese Navy will secure landing rights here. China wants to use Pakistan to strengthen its influence in the Indian Ocean, which India has so far dominated," says Kay Möller. Good relations with Islamabad are also helpful for Beijing because gas pipelines run through Pakistan, on which energy-hungry China depends, explains Jörg Rudolph.
Chinese strategy change possible in the long term
Pakistan is currently a key factor in China's South Asia strategy. In the long term, however, this can change: "In the long term, China wants to build a multipolar world order - certainly together with India - in order to push back the superpower USA," explains Kay Möller. "But that is still too far away. For the time being, China needs Pakistan to secure supremacy in the region."