What will happen next to Romania
My Europe: Romania drives us away from home
Some time ago I registered for a German course in the Schiller House in Bucharest. I don't remember exactly how many we were in my group, I think little more than ten - half of them medical students doing their homework with an eagerness that made me feel old. They wanted to go to Germany immediately after their final exams.
When I traveled to Bonn in January, a young man was sitting next to me on the plane, reading a long book about neurosurgery in Romanian. That was probably no read for entertainment, the heavy book seemed to have reached the upper limit for hand luggage. No conversation developed between us, I don't know why he was reading it, but I can guess from which direction this story could also come.
The only colleague from my former class who studied medicine is now in Germany. The other two favorite destinations of the thousands of doctors who leave Romania each year are France and the UK.
I look at the situation from a certain distance, none of this affects me directly because I'm still young and nothing hurts me. But it affects my mother, for example, who has worked in Spain for 17 years. She is about to retire and the thought scares her of going back to Romania, where old age is humiliating. And when she says that, she primarily thinks of the medical care, this neuralgic point in Romania for the last 30 years.
Three generations in shock when my mother went to Spain
The young people in the German course were about my age when my mother left Romania. It was my sophomore year at university. I think that's why I never saw myself as a child left behind, I was already an adult, and yet three generations felt the shock of this separation: my mother's parents, my mother herself, and her daughter, that is me. It was especially upsetting because she hadn't grown up in a global culture, and the three-day bus trip to Spain was the very first trip abroad of her life.
The strange thing is: I'm the one who grew up with the magic of the west. In 1990 I started school and in 2002 I started studying. I remember feeling towards the end of school that the best thing that could happen to us would be a scholarship to a university abroad to go away to save us. Some of us, the very, very good guys, did it. But for the scholarship you needed a gold medal at an international student Olympics. Those who had neither a medal nor the financial support of a rich family went abroad straight after university. These colleagues first worked in unskilled jobs and after many years they became proud citizens of other countries.
Romania is depopulating before our eyes
Of course, it's not just doctors who leave the country, but people from all areas, with or without qualifications, from all age groups. I know sixty year olds who went abroad to be around their children. Romania is depopulating before our eyes and the rulers do not even know how to tackle the problem.
Spain does not accept dual citizenship and my mother, even after such a long time, still does not want to give up her Romanian citizenship.
Every time I visit my mother in Spain, I am surprised at how quickly the coach leaves the airport and speeds onto the motorway. Then I get sad - what a reaction when I see a motorway ... When the long articulated bus, filled with wheeled suitcases that slide down on their wheels, changes lanes and buzzes under the bridges. "Cowboy stuff". These are our needs and wishes in Romania: Motorways. Clean toilets. Toilets. It is the things that are easiest to achieve, and (if they come to that) will be the most visible achievements. As with learning a foreign language: The most spectacular progress occurs at the beginning when you sort the basic terms. Later, at an advanced stage, the subtleties are encountered, and when viewed from the outside, progress is slower.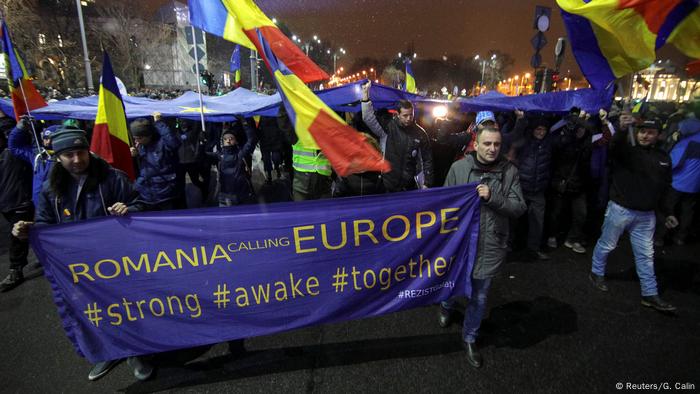 Since the beginning of 2017 there have been protests against corruption and for the independence of the judiciary in the EU country Romania
The agonizing question: When are you going?
People are leaving Romania for everything that the metaphor of the motorway now stands for. My best friends left a few years ago, one at a time, in a relatively short period of time. At that time, I had the feeling, which was boiling with rage for the first time: Romania is driving us away from home. I hadn't felt this way when my mother went abroad, perhaps because I was too young and didn't yet know the extent of this phenomenon. At the time, I saw it more as her individual desperate decision.
It wasn't until I was working that I realized that we had a contract with the country in which we live. Especially when I started to work independently, filling out tax returns and seeing exactly what taxes I pay to the Romanian state - for services that are almost non-existent.
That's why people go abroad - for a better contract with the country in which they live. For those who stayed - at least in my generation - the agonizing question remains: And when are you going? Or: why are you still here?
It is true that the magic of the West accompanied me through my school days, in those 1990s when we children enjoyed an explosion of color while our parents struggled with the difficult transition period. But after some time abroad and a failed attempt to emigrate, what I most wish for now is that I have the strength to stay at home. Not to be chased away. And it's impossible for me to explain why. I'm sure what fight I'm fighting now, at 36: not to go away.
Translation from Romanian: Dana Alexandra Scherle
The Romanian writer and literary translator Lavinia Braniște lives and works in Bucharest. Her book with the Romanian original title "Interior zero" was voted the best novel of the year in 2016 in Romania. In 2018 the German translation was published under the title "Null Komma Irgendwas".