How can I impress a housewife

The housewife in the garden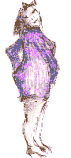 The magnolias are in bloom, the turtles stretch their little dinosaur faces into the sun again and I like to sit around in my garden, where I am busy embroidering. No, I haven't forgotten an R, I went to the handicraft fair in Düsseldorf with my friend Ari.
Ari takes advantage of me shamelessly ... Every month there is a new sweater on her site, for which you can then have the complete material package sent to you. However, I got my stubborn skull through and made sure that your site would be really interesting for knitters in the future, because Bouton D'Or and Lana Grossa gave us permission to publish instructions.
What is now available in knitting books can only be called a tragedy, to say the least, and the wool merchants' books are much better there.

On the way to the exit, we got stuck at Regina Arndt's stand. If any of you have a weakness for cross stitch, it would be no mistake to write this name down. I have seldom seen such beautiful motifs and ideas! Ari was infected by my enthusiasm and spontaneously decided to include stick kits in her range.
And now I'm embroidering like crazy so that she can show examples while she finishes Oliver's rabbit sweater in chord.
It's actually a wonderful time. As soon as you have three days in the garden behind you, you have already got used to it again. What could be more comfortable than sitting under the apple tree with the newspaper and coffee cup while Oliver buries the phone in the sandpit, the birds are twittering and someone cleans his terrace with a high-pressure cleaner.
The neighbor's child (ok, he's almost a teenager) also cleaned the garden furniture enthusiastically. I roared happily, "Isn't it wonderful how the birds chirp ???", whereupon he turned red and said he was just finished anyway.
He's still pretty easy to impress (and that by a housewife with a coffee cup in one hand and a newspaper in the other). For example, this neighbor actually has anyone 10 weatherproof plastic eggs hung in the tree. He asked me of all people if it was me.
So really I meant, Can you seriously imagine that a seasoned housewife and mother who left 30 almost 2 years ago would do something so childish?
He actually said no and apologized ...
Oliver had confessed to grease when his mother began this shameful act ...
I will probably have to get used to the high-pressure cleaners - you can borrow them from hardware stores and they are irresistible to men. Water, mud, tools, noise, engine and alibi utility - these are the things men really get into.
The topics of conversation at the moment are the weather, high-pressure cleaners and the war. Nice compilation. Somehow we are all a little untrained with the subject. We have probably already got used to the fact that the Americans see themselves as world police and occasionally use force to pacify some countries, but now we mix we so for the first time with me.
So in your conversations you dutifully make the swerve to war. But Serbia is not exactly the country I know a lot about and who is killing whom cannot be answered straight away. There is a very clear website on which Serbs depict the atrocities committed against their people. To ignore the topic completely also seems wrong.
A friend from Hamburg said fervently that the CIA should just grab this Millowitsch. At first he did not understand the objection that Millowitsch is very popular here in Cologne until I helped him out with the missing syllable. Not, that us Willi falls into disrepute ...
Most facts can be wonderfully blown up, twisted, misinterpreted and misunderstood, which is why I will not even try to form a conclusive opinion.
The only thing that really touches me is the fate of all those who no longer know where to go. Those who leave their homeland and flee across borders without being able to take much with them. It is a mockery of the resources that are made available for these people when you hear what this hopefully not completely senseless bombing costs. In any case, I came across the DHST, which carries out aid convoys to Bosnia and Albania. We have tidied up our garage, distributed notes in the neighborhood and now the first boxes of clothes, food and blankets are already piling up.
A drop in the ocean, I know, but what about the many drops that turn into a sea?
Have a look around on the DHST website, maybe the idea will convince you too - and those who live in the Cologne area are welcome to hand in their donations in kind here.