Why are JUUL e cigs so popular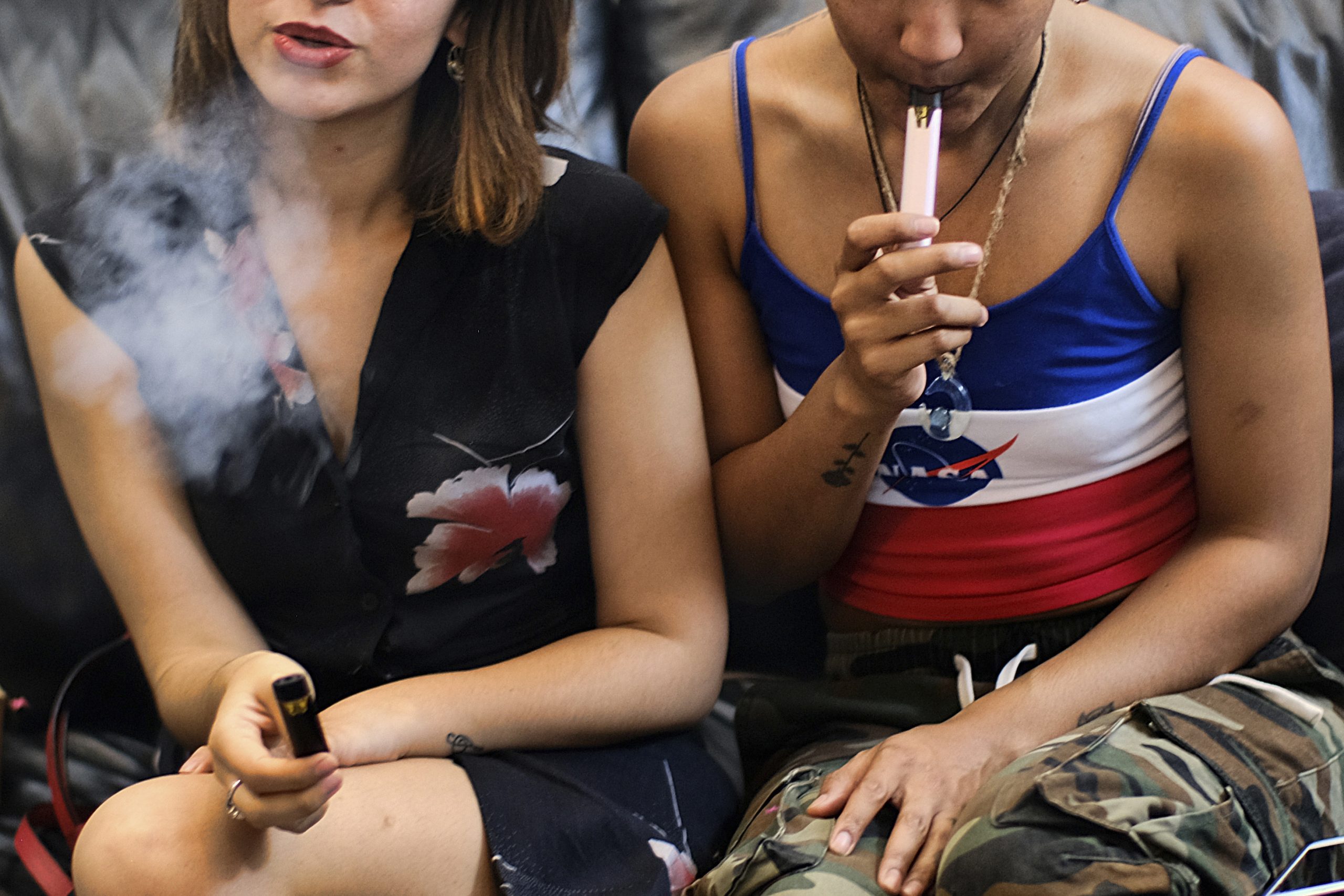 © Picture Alliance Is the next generation actually falling for the coolness factor of a health-damaging stimulant?
I have added a film treasure to my retro DVD collection: "Cinderella '87" with La Boum actor Pierre Cosso. 18-year-old Cindy (Bonnie Bianco) meets Mizio (Pierre Cosso) on her trip to Rome, falls in love with him and has no idea that he is actually a prince. The pop fairy tale was broadcast in West Germany for the first time in the spring of 1987. I was fifteen years old then. Now I watch the series more than thirty-three years later: Pierre Cosso in a red and white striped sleeveless T-shirt, with a trendy peaked cap on his head, crouching casually on his Vespa with a James Dean-style fluff hanging in the corners of his mouth . Rag? Cigarette?! I suddenly realize how normal smoking was in the eighties. Whether in the pub, in the restaurant, on the plane, in the office or on television: there was smoke. Anyone who couldn't stand a ninety-minute movie without nicotine went to the smokers' cinema. Cindy and Mizio also get to know each other at the cigarette machine as a matter of course: Mizio fights with the machine at the airport, Cindy kicks it once, the box spits out its entire contents, Cindy grabs a box as a reward and disappears with a cheeky smile. Back then the normal beginning of a young love story.
Almost as normal as I found it in the summer of 1987 to have my first cigarette during my youth trip to Italy. Most of the people in my clique smoked and most of the guys in my clique rode a cool Vespa like Pierre Cosso. We felt invulnerable and insanely grown up. Every generation of teenagers wants to be cool, at any cost! It always has been and always will be. As with almost all addictions, the entry into nicotine addiction is gradual: First you are offered the cigarette and you only smoke sporadically if you are out with friends and want to belong. Then you get embarrassed by the scrounging. It is more and more common to buy a pack yourself. At some point you need the nicotine regularly and the industry has gained a new addict and paying consumer. I became a slave to the big tobacco companies at a very young age, smoked cigarettes from the brands Benson & Hedges (because of the classy-looking gold-colored packaging), John Player Special (because of the classy-looking black packaging), Marlboro (because of the cool Marlboro cowboy) and Camel (because of the funny cult camel). Image is everything and I was totally naive about it.
Escape from addiction
In my twenties, I became more and more aware of how badly I was damaging my body with the blue haze. I was annoyed because the addiction held me so tight. I ran in the pouring rain late in the evening, with no make-up and in sweatpants, to the cigarette machine or to the gas station as soon as I ran out of "butts". I was disgusted with the smell of smoke in my clothes and in my hair. The smoke was also a cost factor: on a wet and happy weekend, two to three packs were on it. In my late twenties, at the height of my nicotine use, I decided to quit. I threw away the opened box and that's it. You always regret starting to smoke. Anyone who tells something else is lying to themselves. And it is not easy for everyone to get rid of their addiction. Some don't do it all their lives.
In the past two decades it has become noticeably more inconvenient and expensive for this species. Smoking is harmful to health. Point. To make this clear to everyone, manufacturers now have to print chilling images of black lungs or blind eyes on their packs. The sale of nicotine products is now forbidden for young people under the age of 18 and an average pack currently costs an unbelievable 7 euros at the machine. As far as I am concerned, things can get even more prohibitive if they stop my children from smoking.
The hope that your own teenager will do better than you
It is clear to me that my sixteen year old daughter Lara wants to and will have her experiences and experiments. Everything that is reserved for adults just magically attracts young people. Who would I be if I didn't understand? I recently picked up Lara and her friend from a party. I was at the door in the car at the appointed time, but the two Graces made me wait almost ten minutes. When they finally threw themselves into my car, exaggeratedly friendly and apologetic, I first let down all the car windows. Otherwise I would have suffocated miserably! "If you stink of smoke, it doesn't help if you mist yourselves with two liters of Tosca grandma perfume that you found in the guest's guest toilet and stuff five chewing gum into your mouth at the same time," I commented on the situation and was caught Faces.
Of course, I don't like it when Lara smokes or drinks alcohol, and I can seldom hold back my wisdom. But I also know that excessive strictness and prohibitions can turn into the opposite. So when I find a small black plastic attachment in our garden and only have a vague guess what the thing might be, I show Lara what I found and admit that I am open and interested. "Oh, that's from Johanna's e-cigarettes," she explains. I'm speechless. Why e-cigarettes? I remember how these ugly, unwieldy devices came onto the market many years ago and were hailed as a revolution by many smokers who until then had desperately tried to get their addiction under control. Vaping is said to be less harmful to health than smoking and to make it easier to get out of nicotine addiction. Less harmful to health in no way means harmless, because the steam also generates harmful substances, whether with or without nicotine, as Stiftung Warentest sums up the current study situation.
Personally, I don't know anyone in my immediate environment who vapes e-cigarettes. Up until then, those things looked rather silly to me, or at least not particularly casual. That's not what young people are into, do they ?! So far I had classified the shisha as a potential threat to my teenage daughter. The idea that Lara could hang out in some dubious shisha bars, in the worst case in the main train station area, creates more than a queasy feeling in my stomach area. "My friends don't smoke shisha like that. Although Jan recently brought his shisha to a party. But it was really disgusting and time-consuming to clean them up afterwards, "says Lara. There would be a Juul, a Vape, but much cooler, she says. Juul? Never heard. "Do you also smoke e-cigarettes in your circle of friends?" "Vape, mom! Vapen, is that called or just Juulen. "Now I'm curious. You have to know your enemy in order to assess him. So I sit down at the laptop and dive into the world of steam.
How bold marketing recruits young non-smokers
After my research I am on the one hand totally horrified, on the other hand deeply impressed by the incredibly cheeky marketing strategy of the e-cigarette industry. The manufacturer Juul Labs is on an important mission, so it says on the German website: Our mission is to turn the billion adult smokers around the world away from traditional cigarettes, to stop using them and to combat the use of our products by minors.
Juul Labs has designed a chic black, slim, modern and cool looking three-part e-cigarette. The small USB charging plug could easily be mistaken for the USB receiver of a wireless PC mouse. The JUULpods (Yes, at this point you can wonder why the mouthpieces, i.e. the cases with the nicotine salt-based e-liquids, are called pods - at least I automatically associate the word "pod" with Apple products or terms from modern, digital World) are offered in different flavors. From red berries to mango, apple and peppermint, everything is included for the (youthful) taste. If that doesn't appeal to the target group of poor old smokers who have been waiting for decades to finally get rid of their cigarette addiction! Is the e-cigarette really the methadone of the conventional cigarette? In addition to the manufacturer Juul Labs, based in San Francisco, there are some similarly cool-looking products from other manufacturers such as MyBlu or Vype, which are undoubtedly no better than Juul Labs.
The Americans were actually always one step ahead of us Europeans in the fight against nicotine addiction. When I spent a few weeks in California in the 1990s (when I was still a smoker), I was hit hard by the smoking bans in many public places and bars, which were completely unfamiliar to us Europeans at that time. It wasn't until 2007 for us. And now Juul Labs is dominating the e-cigarette market in America with an estimated market share of over 70%. My daughter also uses the term "Juulen", although she actually means "Vaping". The brand name Juul is already a deonym in its usage, a synonym for this type of vaping products. Just like asking for a "pace" when asking for a handkerchief. In America, Juul Labs was held responsible for the fact that the number of young vaping customers skyrocketed within a very short time. With brightly colored advertising photos, all of which showed young, hip and pretty people, advertising via Snapchat (How very clever - which adult is already romping around on this platform and notices that?), Instagram and Co., Juul quickly became a hip, iconic youth brand. Young non-smokers became steamers. Entry instead of switch! From a marketing point of view, there is really no better way to do it.
Deaths from vaping
However, with the pace of vaping-related deaths in America, the government has taken action banning the sale of fruit and mint-flavored sweet cartridges popular with teenagers. The state of New York sued Juul Labs and accused the manufacturer of targeting young people as consumers. Juul Labs vowed to get well soon, stopped advertising, crippled social media accounts, and insisted they never intended to seduce teenagers. Now they hope that their new mission "Rescuing all adult smokers from conventional cigarettes" will be relieved of them, also here in Germany. I will not buy their products or hypocritical statements from Juul or any other e-cigarette or tobacco manufacturer. My love for fairy tales doesn't go that far. I prefer to stay with Cinderella and Pierre Cosso.
In July the German Bundestag passed the draft for a second law "amending the Tobacco Products Act", which provides for advertising restrictions for tobacco products. The outdoor advertising ban for tobacco heaters and e-cigarettes will unfortunately only come from 2023 and 2024 respectively. We can only explain to our children why the tobacco and e-cigarette industry is so keen to breed young addicts and what role advertising and image building play in this.

Tags: family life, adolescents, nicotine use, smoking, teenagers, vaping
To press
Send post by email
Vaping instead of smoking - the fairy tale of harmless enjoyment
From Sonia Heldt
Vaping or juulen are the new smoking. Never heard? Then ask a teenager - the unhealthy hobby is just spreading among young people.
An error has occurred. Please check your entries.
Send post by email
Many Thanks
The post was sent successfully.