Just a matter of money - educational opportunities in Pakistan
"We want to learn to read! Education for everyone - let's do it." The government is promoting its education campaign across Pakistan. The slogan is on the radio. If printed on posters, people like Gulzada would not understand him. Gulzada is 17 and shines shoes in the eight million city of Lahore. "I never really thought about education," he says. "I grew up without going to school. My parents never bothered about my education."
Educational emergency
Schooling is officially compulsory in Pakistan, but only a quarter of children reach sixth grade. Like Gulzada, the others never went to school or dropped out. The head of the school board in Lahore, Abid Safeed, cites two main reasons: "First there is the economic situation in the family and then there is the negative attitude towards learning." The teacher Mujib-ur-Rahman Quadri learns what this means every day at his school near Lahore: "Many parents see no immediate advantage for their children in going to school. They are not ready to invest in the future. They want to see immediate benefits and don't want to have any further expenses after the birth, "observes Quadri. On the other hand, parents who want their children to have a good education often fail because of the unjust education system.
Not all schools are the same
Education in Pakistan is only as good as the wallet is full. Wealthy parents of the upper and middle class send their children to private (elite) schools. Classes are held there in English and the degrees can compete with Western standards. More and more parents are accepting (high) school fees for this. 20 years ago there were only 3,000 private schools, now there are around 36,000.
State schools are the only option for the less affluent families. Lessons there cost nothing. But the learning conditions are bad. "We have no electricity, no water, no school furniture," complains Muhammed Zameer. He teaches at a state school 30 kilometers away from the capital Islamabad - as the only teacher for five school classes. "I asked the Ministry of Education for more staff," says Zameer. "I'm still waiting in vain for an answer."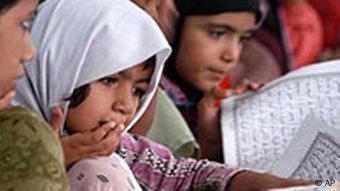 Koran school in Karachi
In addition to the often run-down state schools, there are around 15,000 Koran schools that offer free accommodation, food, clothing and free tuition. These are "social catch basins", says Rainhard Sauer from the Society for Technical Cooperation (GTZ). And don't mean that as an insult. Because around a third of all children in Pakistan would not have a chance to learn to read and write if it weren't for the cheap Koran schools, adds Sauer. Orphans and socially disadvantaged children also have access to a minimum of education here.
The government is doing something, but not enough
"The education system divides our nation into two camps: the one up there and the one down there," says Khalid Alavi, professor at the International Islamic University in Islamabad. The education system is tailored too closely to the affluent class, but "no average Pakistani will ever enter one of the expensive private schools." That is why Alavi calls for the public system to be strengthened. There are already approaches to this. The government has distributed free school books in some provinces. She has had schools built, hired new teachers and introduced scholarships for the particularly disadvantaged group of girls. But overall, education in Pakistan only accounts for two percent of the national budget - compared to around 30 percent for defense spending.
Citizen schools as an alternative
The parents in the small town of Kot Radha Kishen, an hour's drive from Lahore, did not want to wait for the government. You simply tackled it yourself and founded a community school that guarantees good and affordable education. The teachers in Kot Radha Kishen are better paid, more motivated and better trained than in other schools. There are scholarships for poor families and school buses for children who live further away. "We had originally planned to move to Lahore for the children's education. But then this school opened." says a father. He is happy to have stayed in his place: "The other schools do not offer the kind of modern education that can change our generation."