How's winter in San Francisco
Weather, climate, climate tables, temperatures & best travel times worldwide
San Francisco is one of the largest cities in California and is located on the west coast of the United States. The city is located in California north of Los Angeles and south of Portland. The climate is very mild due to the location on the Pacific.
Weather in San Francisco: Temperatures and rainfall for San Francisco are taken from the yr.no website and provided by the Norwegian Meteorological Institute and Norwegian Broadcasting Corporation. The forecasts are updated four times a day for beste-reisezeit.org.
Climate San Francisco
In San Francisco there is Mediterranean climate with warm summers, it doesn't usually get extremely hot in the city, even in summer. The average monthly maximum temperatures in summer are between 21 and 23 degrees Celsius. This makes the big city very different from Los Angeles, where it gets significantly hotter in summer.
in the Winter (December, January, February) it gets cooler in San Francisco. However, temperatures between 10 and 15 degrees are still reached.
In the months of November, March and April, the daily highs are usually still below 20 degrees.
The warmest month in San Francisco is that September, in which the daily highs are always between 20 and 30 degrees. July, August and October also offer summer temperatures.
Especially little rain falls in San Francisco im summer. Usually tourists don't have to expect rain at all in July and August, in September and June it rains an average of one day a month. In the winter months there is usually around seven times a month of rainfall.
The Water temperatures that remains around San Francisco low all year round. In summer 15 to 16 degrees are reached, in winter the Pacific in this region is 10 degrees warm.
Best travel time for San Francisco
The best time to travel to San Francisco is in the months June and October.
During these months you avoid the long summer vacation in the USA, San Francisco is accordingly less crowded. The prices are also lower in these months than in the tourist high season. The temperatures in June and October are pleasant and not too high.
In May it is still a little cooler in San Francisco and in November the rain in the city picks up again.
From a climatic point of view, trips to San Francisco are also recommended in July, August or September. During these months, traveling to the region is usually quite expensive.
Climate table San Francisco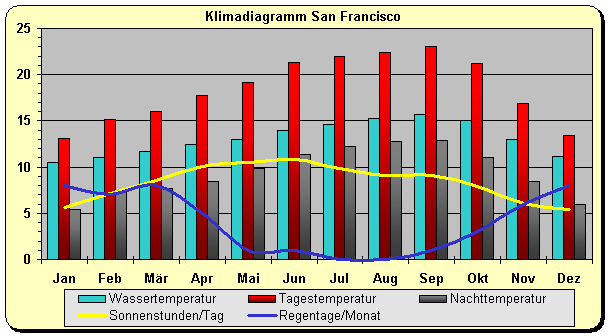 Climate San Francisco
Here you can find more climate tables for San Francisco.